Feed Supplements/MINAS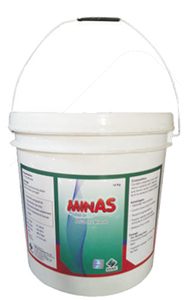 About Feed Supplements
Composition: 
Contains essential macro and micro nutrients with Vitamins and Amino acids in available form to enhance healthy growth.
Benefits:
Supply needful essential minerals to cultured species and pond environment to improve growth.
Supports shell formation and pigmentation.
Controls blue shell formation.
Improves survival rate in low saline waters.
Supports stable plankton bloom.
Dosage:
For (shrimp/fish): Preventive dosage: 5 Gms / Kg feed
Treatment dosage: 10 Gms / Kg feed
Packing: 
10 Kg Bucket.
Storage: 
Store in cool and dry place. avoid direct sun light.