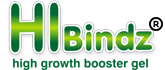 Feed Supplements/HIBindz
About Feed Supplements
Composition: 
Contains micro nutrients in gel form.
Benefits:
Effective binder gel for powder form feed supplementation.
Improves taste of feed for better consumption.
Helps shrimp grow faster and healthy.
Dosage:
Fish/other species
: 5 G/Kg of feed.
feed once per day till end of culture period.
Packing:
2 Kg Bottle / 5 Kg Can.